Kristine Fernandez is our Guest Editor of the month, and we couldn't be more excited to delve into the viral sensation's fashion advice.
Kristine has seen incredible growth on her social this year, and by watching her videos, you can easily see why. Her fun and relatable TikTok & Instagram video content gives style advice anyone can follow and provides a layer of relatability that makes creating an outfit look easy, and chic.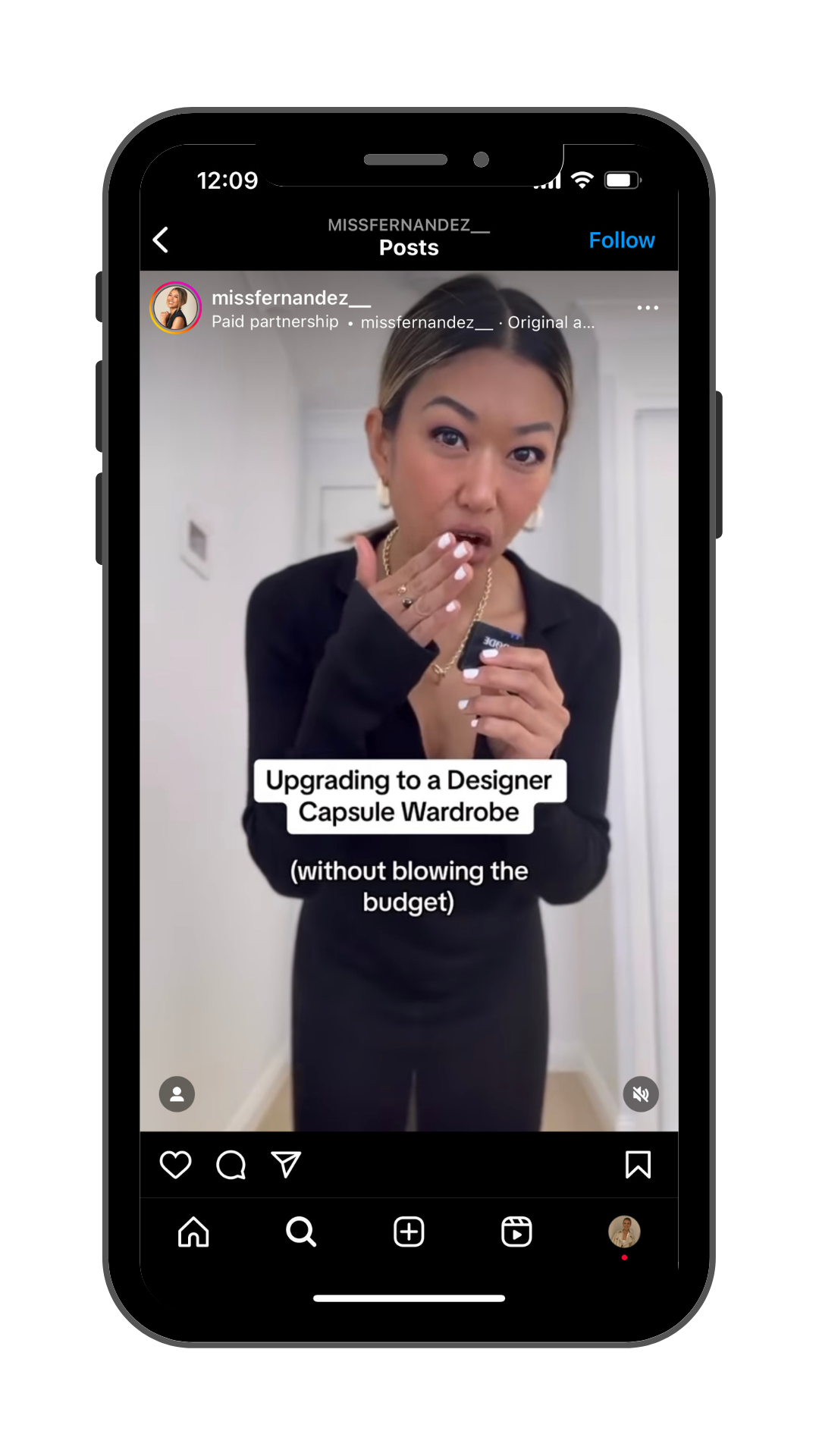 We partnered with Kristine to share her must-have pieces you can shop from The DOM, with a curation of investment pieces you'll wear for years to come and how to seamlessly integrate them into your daily wardrobe. Check out her edit here and read Kristine's fashion advice below.
What does fashion mean to you and how do you approach it?
Fashion to me is a mix between self-expression, functionality and art. I approach it in a way that the pieces that I add into my wardrobe are part of a bigger picture of my lifestyle, my style desires and a reflection of overall growth. I like to choose pieces that can be interchanged between areas of life and seasons.
How would you define your style?
I think my style is like modernised classic. I love classic shapes mixed with modern elements, whether that's through mixing fabrics and/or accessories. I also love pieces which combine characteristics commonly associated with masculine structure and feminine lines.
If you could describe your style in three words, what would they be?
Classic, chic, comfortable.
Do you feel like fashion evolved in the past years, and how?
Yes, for example, we now have categories of fashion which weren't overly available - pre-2020. Categories like loungewear, luxury athleisure sets, matching sets are now available through so many more brands, whereas in the past, these categories were specialty categories where one had to sift through many brands to find them. I think this is a reflection of how culture and lifestyle has evolved over a short period of time.
What are some of the key items you're shopping for right now?
Some pieces for Euro summer, 1-piece bathing suit, structured linen shorts, tan slides and black slides!
What's the best item you've ever bought on sale?
This is a tough one because I've loved everything that I've bought on sale. I used to do random shopping when it was sale time, so the pieces I'd buy were either/or, but now, I shop more intentionally, so everything I tend to buy ends up being a love!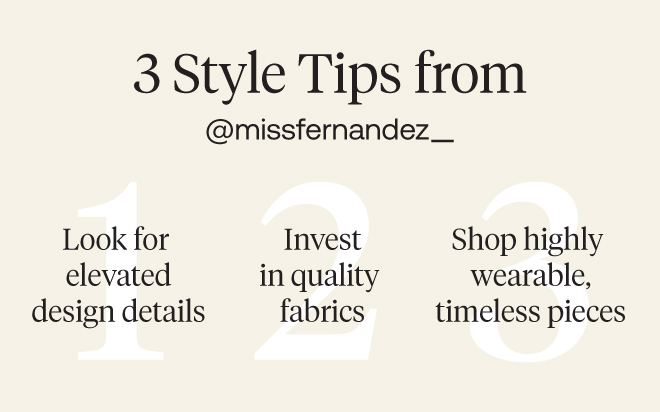 Some fashion items you own and cherish, and why?
My pant suit by St Agni from The DOM! It encapsulates a lot of things I value which I've previously mentioned - can wear easily with other pieces in my wardrobe, timeless, quality fabric and design detail; I also love St Agni's ethics and mindfulness about the way they make their garments. This pant suit exemplifies that just because something is on sale or at an outlet, doesn't mean that it's of any less value than other quality pieces in the wardrobe.
Get The Look:
Top tips to shop designer pieces without breaking the bank?
Invest in pieces for your lifestyle. For example, if you spend more time in relaxed environments, it's likely that you'll get a lot of wear out of casual designer pieces; which means that you get a lot of use from the designer piece.
Outlet shopping - such a savvy option!! Back in the day, we had to drive somewhere to access next-level affordable pricing, now, we can access it with ease online, and the brands (and their available stock) is amazing.
Sale on sale. When you know what your wardrobe and lifestyle needs, you can make a list of these items, so when times like EOFY and End of Year sales come around (when brands typically do extra % off already reduced prices), you can do such a productive haul, and fill the gaps of your wardrobe in a cost-efficient - and high-quality way!
Favourite sale events?
EOFY, End of Year sales. I love them because they happen when we're going through a change of season, so it feels like a lot of items available are relevant and wearable!
What are your 2023's must-haves?
Matching sets (aka coordinates)! Whether you're doing button-down linen shirts + matching shorts; or a matching jogger pant and jumper, or a matching blazer and pant set…these are the ultimate "no-thinking-needed" sharp outfits, made for you! (Plus, you can get more outfits from a matching set ensemble compared to individual pieces).
What are some timeless pieces to you?
A basic white tank top; tailored pants, blazers. The shapes of these pieces transcend time and season. You'll also notice, that whether it's hot or cold, there are iterations of these pieces in different fabrics - because they have an evergreen sense of relevance to them.
How to stay in fashion while being eco-conscious?
I like to use a method I call "the capsule wardrobe method", where everything I add into a wardrobe can be worn many times with other garments already in the wardrobe. This gives the pieces longevity and relevant, and saves time from having to do many wardrobe declutters! I also like to re-use or recycle packaging.